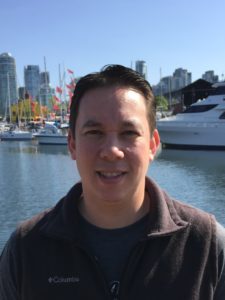 Mike was born and raised in Burnaby and lived there until he was 18, holding a variety of different jobs until one day he realized that he wanted to see more of the BC coast. He had an opportunity to move from the lower mainland, to Cortes Island, a small island in Desolation Sound. After a year of living the small town life, he had his first real taste of working on the water as he was offered to work the docks in an even smaller town, Sullivan Bay.
The move to Sullivan Bay was truly the stepping stone that enabled him to get to where he is today. If he didn't appreciate being on the water before, he sure did then. So much so that he decided to become a scuba diver and a commercially licensed 60 ton boat captain. The water was unquestionably where he wanted to be, so back in 2005 when the opportunity at False Creek became available, he was ready for the challenge. Mike is also involved with the Pacific Coast Congress of Harbormasters and Port Managers (PCC) and has served as a Director, Vice President and is currently on his 2ndterm as President.
Through his hard work and dedication Mike has received, on behalf of the FCHA, both the Regional and National Environmental Stewardship Award presented by Small Craft Harbours, the PCC Environmental Stewardship Award, and the National Clean Marine Award. His facility is also the only 5 Anchor Rated Clean Marine Facility in BC.
He's had the opportunity to work with and learn from some great individuals along the way and he looks forward to passing along the information that he's learned to those who share the same passion for the marine environment.